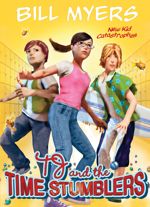 TJ Finkelstein is your average seventh grader trying to survive junior high. Average except for . . .
Just moving from the Midwest to crazy, money-is-no-object Malibu, California.
Becoming mortal enemies with the school's most popular girl, who stars on the Dizzy Channel.
Oh yeah, and being followed around by two goofball boys from the 23rd century!!!
That's right—Herby and Tuna have traveled back in time to study TJ for a class project. Unfortunately, she is the only one who can see them. And unfortunatelier (don't try that word on your English teacher), their "help," which involves using whacked-out 23rd-century gadgets, only leads to more mayhem and plenty of side-splitting laughter.
Join this unlikely trio as they stumble into one hilarious catastrophe after another . . . while accidentally learning the importance of such core values as love, honesty, patience, and kindness.
I was so excited to finally read a new book by Bill Myers! Yay! I love his Journey to Fayrah, Wally McDoogle, Blood Hounds, and McGee and Me series.
I didn't know if TJ and the Time Stumbers would be as good as his other series, but I loved it even more! Both me and my brother were, like, "Eh, it doesn't look that great." But we were hooked from page one. I don't really like the cover, so maybe that's why I didn't think I would like it so much (I know, I know. Don't judge a book by it's cover).
Every chapter started out with a time travel log done by Herby and Tuna. I really liked that and I think it added more depth (and humor!) to the story. Myers always amazes me because his books are so funny and yet they cover serious topics. By page eleven you read about TJ dealing with the death of her mom and Chad's divorced parents. It's not depressing, it's just true to life. The story also comes with hope - TJ discovers what a wonderful future she has ahead of her. Sorta like on Meet the Robinson's.
Of course, Myers had me giggling, snorting, and laughing throughout the whole book. Time travel has been done again and again, but not quite like this before!
I received a complimentary copy of this book for review purposes from Tyndale House. I was not required to write a positive review. The opinions I have expressed are my own.