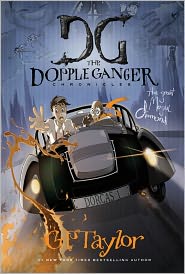 Join the Dopple twins and Erik Ganger on another exciting adventure! Sadi and Saskia were adopted by a write named Muzz Elliott, but Muzz Elliott has been acting suspicious lately. Crimes from Muzz Elliot's own books are being acted out and Muzz Elliot is the prime suspect! The twins call Erik for help and he and Dorcas Potts race to get to the diamond first - before the real thieves do.
I really enjoyed this third book in the DG the Dopple Ganger Chronicles. Of course, the art work was wonderful and quirky (in a good way). I love the combination of comic strips and regular book pages. This book is a must for the reluctant reader. The mystery and adventure in this book will keep kids flipping pages.
I loved the dilemma Erik was put into. Should he steal the diamond before the real thieves do to protect it even though he swore to never steal again? All three of the kids have to ask themselves what do you do when you aren't sure what's right?
I received a complimentary copy of this book for review purposes from Tyndale House. I was not required to write a positive review. The opinions I have expressed are my own.