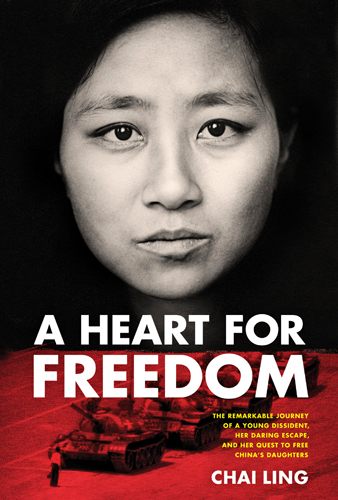 The dramatic and fascinating story of Chai Ling, commander-in-chief of the student protesters at Tiananmen Square and witness to the massacre of thousands of Chinese civilians. Risking imprisonment and possible death for her leadership role in the student democracy movement, she was on the run in China for ten months while being hunted by the authorities. She eventually escaped to the U.S., completed her education at Princeton and Harvard, found true love, and became a highly successful entrepreneur. But her desperate quest for freedom, purpose, and peace—which she had sought in turn through academic achievement, romantic love, political activism, and career success—was never satisfied until she had an unexpected encounter with a formerly forbidden faith. Her newfound passion for God led to her life's greatest mission: Fighting for the lives and rights of young girls in China.
I loved this book so much. It made my heart thump, the beats echoing one word: freedom. In America, we take it for granted everyday. How we express ourselves, where we go to school, how many children we have, where we work, who is in charge of our country, etc.
"If I criticize the president," one congressman told me, "the worst that can happen is the White House won't give me a dinner invitation." - Page 233
I had never heard of the Tiananmen Square massacre, so this was opening up a whole new world to me. Thousands of college students going on hunger strikes and gathering together to stand up for a right to speak is a truly amazing thing.
Chai Ling also touched on the topic of abortion. China's law that each couple is only allowed on child has led to many abortions.
In both China and India, families eliminate girls in hopes of raising boys. This crime, called gendercide, is done through prenatal sex selection, infanticide, and abandonment. China's one-child policy makes it worse - with only one baby allowed, who wouldn't choose a boy? Girls cannot carry on the family line and will marry and leave when their parents grow old. For security, every family wants a son. Now in China, six boys are born for every five girls. - Page 299
I had recently read a blog post about this and it really opened up my eyes. I remembered my mom telling me about China's one-child policy when I was younger, but no one really talks about it and I slowly forgot. Now it is becoming an increasing problem in China with lots of boys and a shortage of girls.
The preference for sons and the one-child policy are a lethal combination. Daily, thousands of baby girls are aborted or killed simply because they are girls. With so many girls now "missing" in China, the surplus of thirty-seven million unmarried young men is bound to cause security and economic problems. With a shortage of available mates for all the eligible bachelors, trafficking of little girls and young women is now out of control in China. - Page 300
Now, the whole book isn't about abortion but she does devote a good bit to it at the end. The rest of the book records her amazing journey from a small Chinese village to China's most wanted woman.
I received a complimentary copy of this book for review purposes from Tyndale House. I was not required to write a positive review. The opinions I have expressed are my own.